Hi. I have been offered what appears to be a good deal on a RB Corvette Classic on eBay, but I'm unsure about whether or not it is what the seller (honestly) believes it to be. The points of concern are the fretboard wood (rosewood or wenge) and the AA flamed Maple cap or lack of on the body itself.
The fnish appears to be Almond Sunburst, but to my eye, it is not flamed maple (and the seller agrees).
The current Warwick spec for the Classic has it listed as wenge fretboard, AA flamed maple top. The model I'm being offered dates (the seller says) from 2018 when he bought it new from a reputable UK dealer.
Does anyone know if Warwick ever changed the spec for this model, effectively dropping the rosewood fretboard and the maple top in favour of wenge and a sunburst finish over Alder?
The instrument itself can be seen here: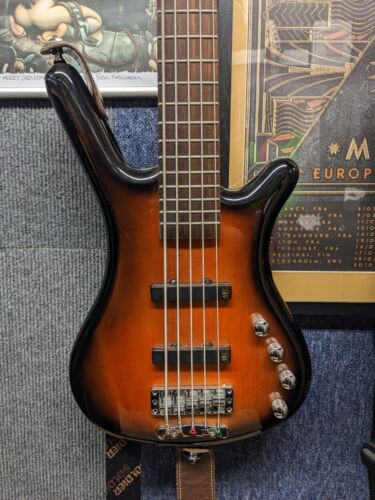 Find many great new & used options and get the best deals for Warwick RockBass Corvette Classic Active 5 - Almond Sunburst at the best online prices at eBay! Free delivery for many products.
Thanks
Tony